The first USA Hockey/TheRinkLive Men's College Poll, like the initial USCHO poll and first College Hockey News and John Buccigross rankings, finds the Terriers in the number 1 slot. Once again, the top five is comprised of the 2023 Frozen Four teams (BU, Minnesota, Quinnipiac and Michign) and Denver. The Terriers received 16 first-place votes while the #2 Gophers received two and #3 Bobcats garnered 12.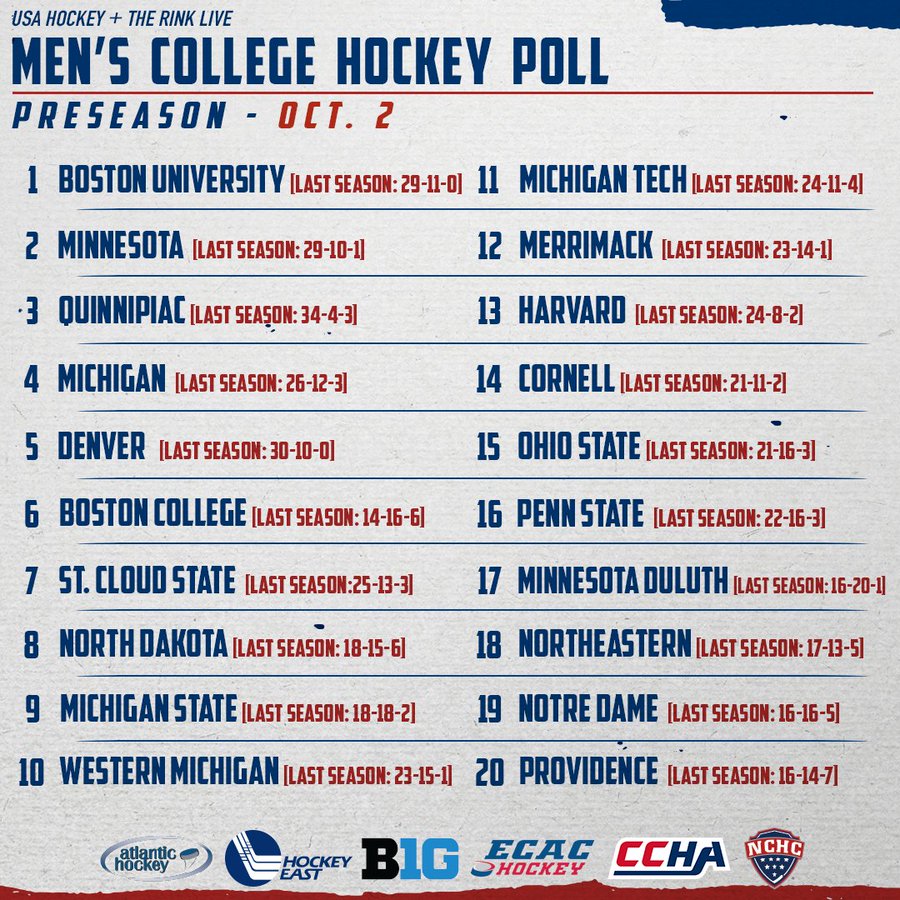 ● USA Hockey press release and poll details

One other Division 1 ranking, from Everything College Hockey, slots BU second behind defending champion Quinnipiac, who will visit Agganis Arena the night before Thanksgiving.
Photo credit Gracie Davenport

►The Boston Hockey Blog has begun releasing feature stories from the upcoming Daily Free Press annual hockey issue. First up is a conversation with freshman Macklin Celebrini, who is projected to be the top pick in next June's NHL Entry Draft.
"Everyone's on the same page," Celebrini said. "We have one goal, and it's to win. There's no other option."

"Last summer, I got to know Jay, Kim, and Joe. They were the biggest reason that I came here," Celebrini said. "They're very, very smart people."
● DailyFreePress.com Celebrini Gearing Up for his BU Debut
►
College Hockey News announced its pre-season All-CHN Teams. Sophomore

Lane Hutson

is a CHN first-team selection while Celebrini earned spots on both the second team and the All-Rookie team.
CHN's Top 10 recruiting classes are led by #1 BC, #2 BU and #3 Michigan State. Along with Celebrini, the Terriers' nine-man class includes five NHL draft picks: #11 overall Tom Willander, third-round pick Gavin McCarthy, sixth-round pick Aiden McCarthy, seventh-round pick Jack Harvey and 2021 sixth-round pick Shane Lachance.

● College Hockey News All-CHN Teams; Top 10 Recruiting Classes
►BU generally ices one of the youngest squads in college hockey and this year season's squad is the fourth youngest in Division 1, according to a Buccigross tweet, with an average age of 21.1 years. Last season's team, which included 10 seniors, had an average age of 21.4 years.

Looking ahead
Hockey journalist Chris Peters shares some thoughts on Cole Eiserman flipping his commitment from Minnesota to BU, which he calls "a seismic shift in the college hockey recruiting landscape."
● Highlights of the NTDP 10-3 win against Green Bay with four Eiserman goals
2024 recruit Jack Pridham's game-winner in Saturday's 5-3 West Kelowna win against Trail.
Looking back
Elliotte Friedman reports that Trevor Zegras has re-signed with Anaheim for three years a $5.75M per season.
Kevin Shattenkirk, who signed a free-agent contract with the Bruins this summer, recalled his first visit to TD Garden in a sit-down with the Boston Globe.
Kevin Shattenkirk has fond memories of the first time he took a spin on the TD Garden ice.

It was February 2008 and Shattenkirk was a fresh-faced freshman at Boston University preparing to play in the Beanpot. Though the Terriers lost to archrival Boston College on that night, Shattenkirk remembers the spirited crowd and electric atmosphere.

"And then I remember my first time coming back here as a pro, and it's a lot different when you really don't have anyone cheering for you. So, I'm excited to have my first game there on the right side of the jersey," Shattenkirk said before making his Bruins debut in Friday night's preseason loss to the Flyers.
A last-minute call from Coach Paul Maurice put Wilmer Skoog in the Florida Panthers' line-up for an exhibition game against Carolina. The Swedish center, who would log 8.25 of icetime, explained, "I got to the rink and my gear wasn't there. I had to warm-up [while the gear was en-route] and then I came on for a couple of minutes." A day later, he was assigned to AHL Charlotte.

● Florida Hockey Now Skoog ditches GrubHub, makes Florida Panthers Preseason Debut

Women's Team
● DailyFreePress.com Ranking the Five Most Important BU Women's Hockey Games of 2023-24