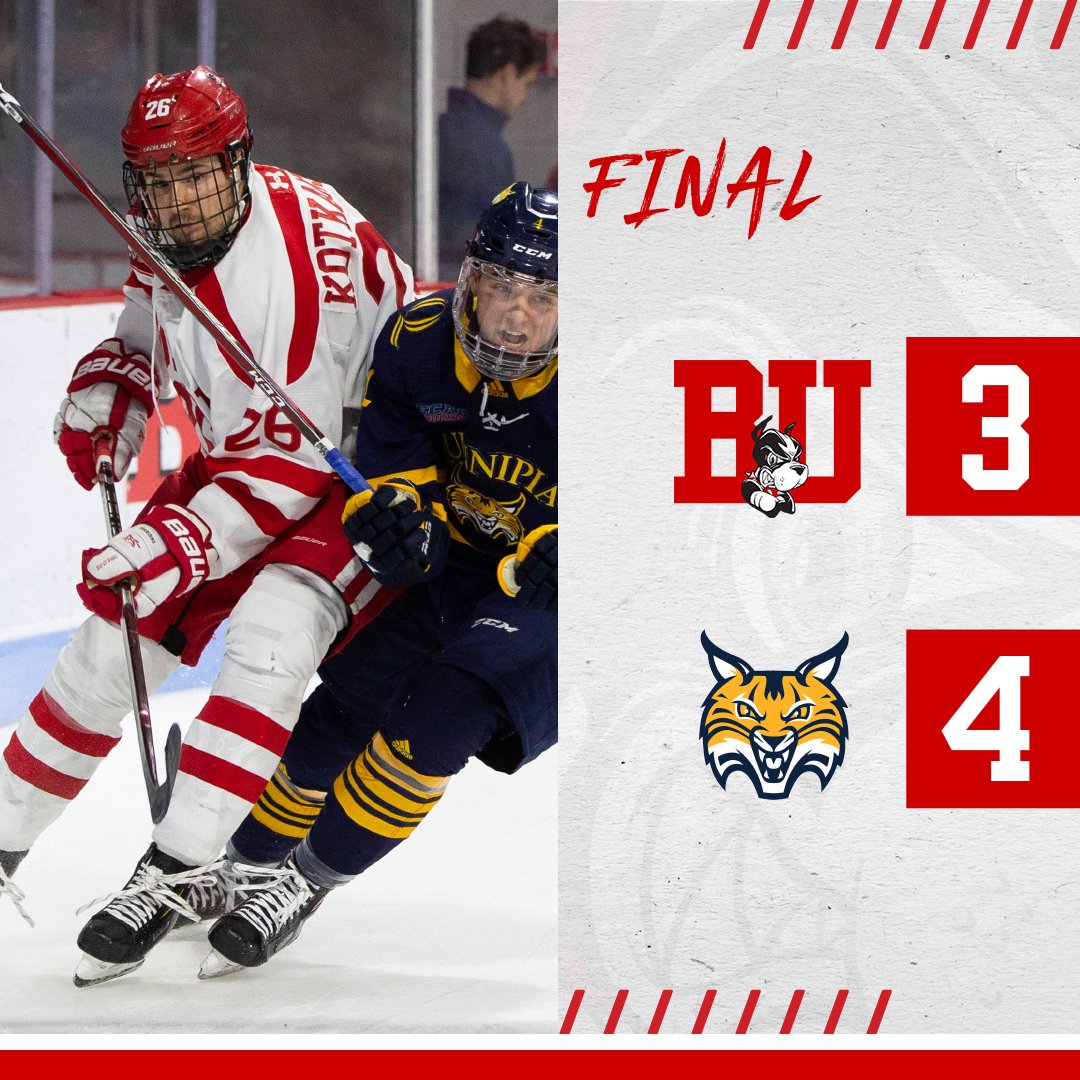 For the second time in two games, the Terriers spotted their opponent a 2-0 lead. However this time their slow start put an end to their five-game unbeaten streak, as former Terrier Brandon Fortunato scored his second goal of the game with 2.5 seconds left in regulation, enabling #7/6 Quinnipiac to leave Agganis with its first-ever win against BU.
The Bobcats got off to a 2-0 lead and outshot the Terriers 10-0 midway through the first period. Desi Burgart beat Jake Oettinger with a sharp-angle shot at 3:34. Then, at 12:37
, Brandon Fortunato wristed home a seeing-eye shot from the left point.
BU failed to score on its first two power plays; however

Patrick Curry

got BU on the board only four seconds after the second one expired.

Ty Amonte

took the puck past the goal line extended and backhanded a pass to Patrick Curry who was perched right in front of Bobcat goalie Andrew Shortridge. The junior forward wasted no time in depositing the puck into the Quinnipiac net to cut the deficit in half.
With less than two minutes to go in the first, the Terriers took advantage of a shorthanded opportunity. Graduate transfer student

Max Willman

took control of the puck in the left face-off circle and dropped it to Amonte, who fired it past Shortridge to even the score at two apiece.
Six minutes into the third period, Quinnipiac forward Daniel Winslow converted a perfectly placed pass from Hobey Baker hopeful and Bobcat defenseman Chase Priskie and Quinnipiac regained the lead. However, 73 seconds later, senior Terrier forward

Ryan Cloonan

skated past the goal line extended and found

Shane Bowers

in the far left circle. The Halifax, Nova Scotia, native fired a one-timer for his eighth goal of the season and knotted the score at three apiece.
Just when it looked like the two teams were going to overtime, Fortunato skated

into the BU zone and fed Wyatt

Bongiavanni, whose shot went off Oettinger and skittered toward the far post. Fortunato poked home the game winner with BU goalie

Jake Oettinger

(who made 40 saves for the evening) out of position with only 2.5 seconds left in regulation.
● GoTerriers.com recap and comprehensive box score
●
Video highlights and post-game interview with O'Connell
● Daily Free Press recap
● HockeyEastonline.com recap
● New Haven Register game summary
Looking ahead
● 2019 recruit Ethan Phillips scored his eighth goal of the season as the Sioux Falls Stampede defeated the Fargo Force, 7-4
● 2020 recruit Drew Commesso made 28 saves through regulation and overtime but his USNTDP U-17 team lost a 4-3 decision via shootout to the Green Bay Gamblers.
Looking back
Former Terrier coach David Quinn made his first professional visit back to Boston a successful one, as his Rangers defeated the Bruins 3-2 and have a modest three-game winning streak to savor. His former Terrier skaters Kevin Shattenkirk and Jakob Forsbacka Karlsson each added an assist for the Rangers and Bruins, respectively.
● Newsday article
● NHL.com recap and highlights
Jordan Greenway scored his 9th goal of the season, as the Wild defeated the Blue Jackets, 2-1.
● NHL.com recap and highlights
Colin Wilson scored his 9th goal of the season, as the Avalanche defeated the Kings, 7-1.
● NHL.com recap and highlights
Women's Hockey
Junior forward Nastasza Tarnowski had two tallies and six Terriers scored goals as BU completed a home and home sweep of Hockey East newcomer Holy Cross with a 7-1 thumping. Freshman forward Courtney Correia assisted on the tri-captain's first goal and scored the game-winner in a three-point performance. Sammy Davis and McKenna Parker each recorded a goal and an assist. The win gave the Terriers sole possession of third place in Hockey East and a 10-5-4 conference record

.
● GoTerriers.com recap highlights and post-game interview with Durocher