Agganis Arena videographer Bernie Perisie has posted his final video of the season, summarizing the 2022-23 campaign.
My 2022-'23 BU Hockey Season Reel🎞️@BurntBoats @BUHockeyStats @BU_Hockey5 @TerrierHockey @BUBand @BUDogPound @TeamECH @hockey_east @BU_FoH @BOShockeyblog @AgganisArena pic.twitter.com/eOvEtcGOtT

— Bernie Perisie (@bernieperisie) May 7, 2023
Lane Hutson has been added to Team USA's roster for the IIHF Men's World Championships, beginning this week in Finland and Latvia. Hutson is the youngest rostered player while Nick Bonino, a hero of the 2009 NCAA championship game and a two-time Stanley Cup winner, is the oldest. Drew Commesso and Luke Tuch also are on the squad that will be coached by David Quinn. Earlier this season, Hutson helped Team USA win a bronze medal in the World Junior Championships.
All of Team USA's games will air on NHL Network, beginning with Friday's preliminary round match-up against Finland.

● USA Hockey World Championships Page
tw-align-center

We're excited to cheer on these four Terriers as they play for Coach Quinn and @usahockey at the 2023 Men's World Championship!

No other school has more representatives on this year's squad than BU! pic.twitter.com/06PD0FMsLD

— BU Men's Hockey (@TerrierHockey) May 4, 2023
►Boston Hockey Blog: Domenick Fensore's Letter to Terrier Nation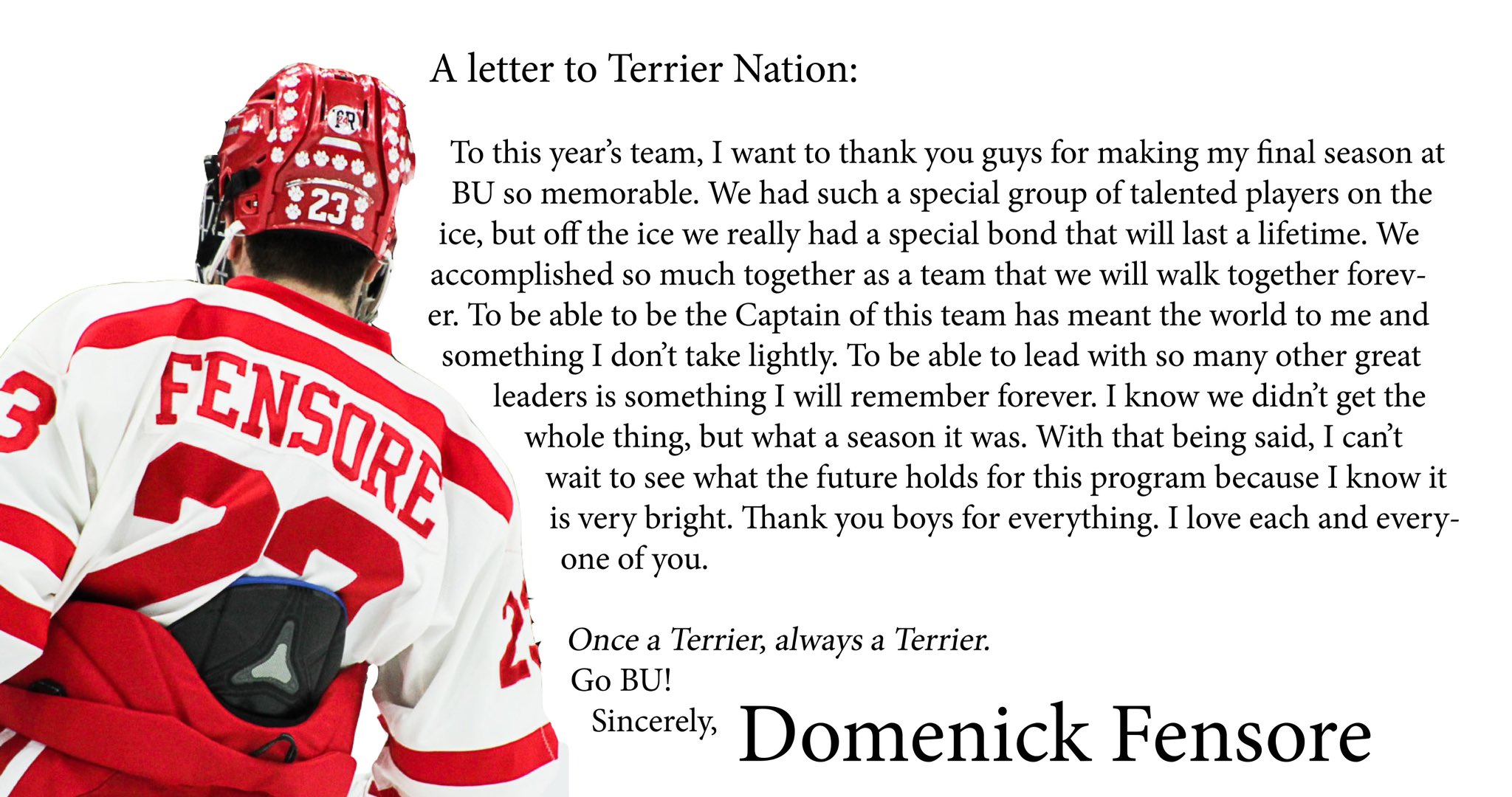 Looking ahead
Terriers have received a commitment from goalie Max Lacriox for the 2024-25 season. A dual US/Canadian citizen raised in Colorado, the 6'0", 170 lb. netminder spent the past two seasons at The Governor's Academy playing for former BU captain Brian McGuirk.
Lacroix, who was team captain in 2022-23, played in 29 games with a 3.17 GAA and a .907 save percentage. During Lacroix's junior season when he posted a 2.50 GAA, and a .928 save percentage, McGuirk told New England Hockey Journal:
"He just has that ability not only to keep you in games but steal games for you. "He plays the position with such as athleticism, and the maturity level and mindset of how he competes … to me, he's already got that college/pro-type mindset. He's very mature in how he approaches it."
Previously he played in the Colorado Thunderbirds organization, posting a league best 1.14 in 2019-20 with the 16U team. He has also trained at Stop It Hockey, the goaltending school headed by BU goalie coach Brian Ecklund.

His father is former NHLer Eric Lacroix who spent seven seasons with the Kings, Avalanche, Rangers and Senators and played collegiately at St. Lawrence. His grandfather, Pierre Lacroix, was the longtime general manager and team president of the Colorado Avalanche.

● NeutralZone stats
Lacroix will play in the NAHL next season for the new Colorado Grit franchise. Transfers and Mathieu Caron (Brown) and Henry Graham (UMass) are set to man the crease this coming season. Michael Chambre who spent the past two seasons with the NTDP but was limited to 13 games last season due to injuries, is expected to play in the USHL next season and join the Terriers in 2024. He was selected by Sioux Falls in the league's Phase 2 draft.
tw-align-center

Welcome to Stampede Country, Michael Chambre!#GoPede🦬 | #2023ushlDraft https://t.co/KMx1wqpDbg pic.twitter.com/9LN10tY7VP

— Sioux Falls Stampede (@sfstampede) May 3, 2023
The honors keep coming for 2024 recruit Macklin Celebrini, who has garnered a hat trick of USHL awards. In addition to being named Rookie of the Year and Player of the Year, he succeeds Jeremy Wilmer as Forward of the Year and league scoring champion with 86 points.

tw-align-center

🧹🧹🧹

Macklin Celebrini has become the first player in USHL history to win Forward, Rookie, and Player of the Year in one season 🔥

Read: https://t.co/CnzgsIv5N6#FeelSteel pic.twitter.com/F9uOzgtPJX

— Chicago Steel (@ChicagoSteel) May 5, 2023
In the best-of-five USHL Eastern Conference finals, Youngstown and Chicago split the first two games. In the Phantoms' 4-1 win, 2024 recruit Brandon Svoboda opened the scoring and 2023 recruit Shane Lachance contributed a goal and an assist. In Chicago's 5-2 win on Saturday, 2023 recruit Jack Harvey scored a power-play goal and added an assist.