Powered by two goals each by Quinn Hutson and Lane Hutson, #7 Terriers rallied from an early 2-0 deficit to defeat Providence, 6-4, on Senior Night at Agganis Arena. With the victory—and Northeastern's loss to Lowell— BU clinches the #1 seed in the Hockey East Tournament and also claims its 11th Hockey East Regular Season Title, the first since 2016-17 and BU's first outright title since 2014-15.
tw-align-center

The moment we found out we're Hockey East regular-season CHAMPIONS!! pic.twitter.com/C9dnsG7JMe

— BU Men's Hockey (@TerrierHockey) March 4, 2023
"I'm really proud of these guys," head coach Jay Pandolfo said following the win. "This is a tough title to win –– I know it's only a regular season title –– but it's not easy, it's a tough league. These guys earned it. They had the right mindset from day one and I give them a lot of credit."
The freshman brothers, who were named the games' 1st and 2nd stars, each now have 12 goals. Six Terriers had two-point nights. In addition to the Hutson Brothers, Wilmer Skoog and Matt Brown each had a goal and an assist, while Jay O'Brien and Sam Stevens each had a pair of helpers.
Prior to the game the ten seniors and graduate transfer Patrick Schena were honored in a pre-game ceremony. It wasn't to be the last time Schena would be on the ice.
Three minutes into the contest, a conference title and trophy didn't appear to be on the evening's menu for the Terriers. At 2:18, following a neutral zone turnover, Brett Berard skated into the offensive zone, used defenseman John Copeland as a screen and fired a shot past Drew Commesso's glove. Less than a minute later, with the Friars on a power play, Nick Poisson redirected home Max Crozier's shot from center point for 2-0 lead.
Midway through the period BU scored on the rush. Brown sent Ty Gallagher into the Providence zone. He passed to Skoog on his right wing and the senior center skated to his left, found space between the circles and roofed a shot to Philip Svedebäck stick side. Skoog's 12th goal cut the deficit in half.
tw-align-center

It's Senior Night, so of course we had a senior get our first goal! It was a pretty one too, as Skoog scored his 12th of the year!

Watch on ESPN+: https://t.co/M03z4rsP4l@hockey_east | @espn pic.twitter.com/mbPmKMTuGR

— BU Men's Hockey (@TerrierHockey) March 4, 2023
BU pulled even two-and-a-half minutes later. Jeremy Wilmer took a pass from Stevens below the goal line. He wheeled out of the corner, drove toward the net and, while falling down, slid the puck through the crease to Quinn Hutson positioned near the right post. He tapped it in for his 11th tally of the season.
tw-align-center

This Jeremy Wilmer assist deserves some #SCTop10 consideration - what an effort to get the puck to Quinn for the tap-in at the post!

Watch on ESPN+: https://t.co/M03z4rsP4l@hockey_east | @espn pic.twitter.com/qITmyy9cGM

— BU Men's Hockey (@TerrierHockey) March 4, 2023
BU kept the pressure on and took the lead at 17:06 with the teams playing 4-on-4. Lane Hutson nudged a contest puck to Ryan Green who passed to O'Brien. The senior, who began his college career as a Friar, backhanded a pass that Hutson collected just to the right of the cage. From behind the goal line, he banked a shot off Svedebäck's leg pad and into the net for his 11th goal. 3-2.
tw-align-center

The bank was open for Lane! His 11th goal of the year and 40th(!!!) point of the season gave us a 3-2 lead heading to the second period!

Watch on ESPN+: https://t.co/M03z4rsheN@hockey_east | @espn pic.twitter.com/GlwOLEvfh9

— BU Men's Hockey (@TerrierHockey) March 4, 2023
PC coach Nate Leaman replaced Svedebäck with senior Auston Roden as the second began. Early in the period, Lane Hutson offered up a highlight-reel sequence that first saw some of his patented offensive moves nearly produce a goal. As the play continued, O'Brien passed to Hutson who found a lane and ripped a shot home from forty-five feet that beat Roden stick side with Luke Tuch setting a screen.
tw-align-center

Is 12 goals as a freshman defenseman good?

Watch on ESPN+: https://t.co/M03z4rsP4l@hockey_east | @espn pic.twitter.com/qceJZ18kq8

— BU Men's Hockey (@TerrierHockey) March 4, 2023
The two-goal lead lasted just 32 seconds. On a Providence rush, Commesso defended an initial shot sending the rebound to his right. Liam Valente pounced on it and, with Commesso not tight to the post, squeezed home a sharp-angle shot, making the score 4-3.
Then at the midway point of the period, captain Dom Fensore, from the defensive zone right circle, sent a headman pass that Quinn Hutson wrested control of at center ice as a defender hit the ice. He skated in alone and rifled the puck past Roden's glove to restore the two-goal lead with his 12th tally. 5-3.
tw-align-center

Hutson Brothers 4, Providence 3

Watch on ESPN+: https://t.co/M03z4rsP4l@hockey_east | @espn pic.twitter.com/wKcDlqM4Bp

— BU Men's Hockey (@TerrierHockey) March 4, 2023
BU had increased its lead in the second period despite losing 15 of 18 draws in the period.
The visitor cut the lead in half again early in the third period. Chase Yoder and Skoog fought for control of a draw to the right of the BU goal. Yoder won the battle and zipped the puck past Commesso short side, making the score 5-4.
The Terriers responded quickly. Setting up in the Providence zone, Skoog passed to McCarthy at the right point. He sent a bouncing shot toward the net, but it glanced off a defenseman. Brown quickly pounced on it between the circles and fired a shot past Roden's glove for his team-leading 15th goal and a 6-4 lead.
tw-align-center

HUGE goal from Brownie to regain our two-goal lead!

Watch on ESPN+: https://t.co/M03z4rsP4l@hockey_east | @espn pic.twitter.com/rNJ2Xid965

— BU Men's Hockey (@TerrierHockey) March 4, 2023
BU was in control the rest of the way, limiting the Friars to six shots in the period and matching them in face off wins, eight to eight. Terrier penalty for slashing midway through the penalty was quickly negated by a tripping call on Providence.
With nine seconds remaining and play halted for a face off, Pandolfo sent third-string netminder Schena out to replace Commesso and see his first regular-season game action, to the delight of BU fans.
tw-align-center

So great to have Patrick Schena close out a 6-4 win on Senior Night!! pic.twitter.com/jtKUekrDyU

— BU Men's Hockey (@TerrierHockey) March 4, 2023
Addressing BU's early deficit, Pandolfo said, "We got off to a little bit of a slow start and then I thought we started executing our breakouts, executing in the o-zone." "We just started playing a little faster and we started to get our chances."
Looking ahead to Saturday's finale, he added, "It's still a really important game for us tomorrow night," Pandolfo said. "We've got to go down and win that game as well. Every game matters with the Pairwise and all those things."
BU moved up to #6 in the PairWise rankings.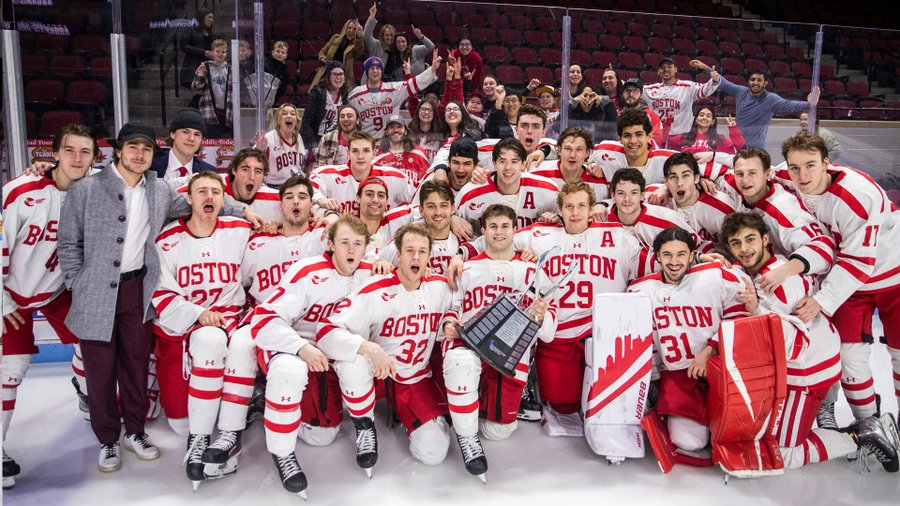 Brown and Lane Hutson remain again 1-2 in Hockey East scoring with 43 and 41 points, respectively.
Lane Hutson leads all D1 defensemen in goals (12), assists (29) and points (41). He's the first D1 blueliner to reach 40 points in a season since Adam Fox did so for Harvard in 2016-17.
Quinn Hutson's second goal was his fifth game-winner, tops among the Terriers and also the leader for Hockey East. He has two of the team's last three GWGs. Fensore has assisted on the last four BU game-winners.
BU outshot Providence 33-26 as Drew Commesso gained his 17th win of the season.
Brian Durocher, who has retired after leading the Women's Hockey team from inception for 18 seasons, was honored between first and second period.
The teams will conclude the regular season Saturday night in Providence.
● GoTerriers.com recap and comprehensive box score
● Highlights, Pandolfo/Hutsons Postgame comments
●Boston Hockey Blog: Hutsons headline 6-4 win, clinching HE regular-season title
Looking ahead
A pair of Terrier recruits also had two-goal night, while another produced a hat trick.
2023 recruit Doug Grimes scored his 14th and 15th tallies in Lincoln's 5-3 win against Sioux City.
2024 recruit Brandon Svoboda scored twice—his 10th and 11th—as Youngstown routed the NTDP U17s, 7-1.
2024 recruit Jack Pridham scored a hat trick and assisted on two goals to lead St. Andrews College past Upper Canada College, 8-6. It was the second hat trick in four games for the right-shot forward, who now has a 33-33-66 line in 42 games.
2024 recruit Tim Busconi scored his first goal in Victoria's 4-3 loss to Powell River.

Looking back
Jack Eichel scored his 23rd goal as Vegas defeated New Jersey, 4-3, in a shootout.

Dante Fabbro has agreed to a one-year, $2.5 million contract extension with Nashville.
Jordan Greenway has been traded to Buffalo by the Minnesota Wild for draft picks. The power forward, who is in the first year of a 3-year $9 million contract, has seven points in 43 games this season. He had 27, 32, and 28 in three previous seasons. As a Terrier, he produced 92 points over three seasons and helped lead BU to a Hockey East Championship and the regional finals of the 2018 NCAA tournament.
● SB Nation Wild Trade Greenway to Buffalo